French Deliveries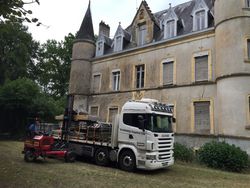 We aim to use our own trucks to carry-out deliveries of scaffolding in France, the advantage of our own trucks is that we will contact you on route to arrange a delivery time, thus giving total control over delivery days / times , we have our own fork-lift for off-loading giving access to the most remote locations.
Just send us an email with which items you require and your location / area code and we will forward your quotation.
If you require advice of which type of scaffolding suits your project best just drop us a line, we have many past customers located in France and may be able to help you find a local ex-pat to advise you.
pinterest-site-verification=78ef94d61ddfa1c6e3303a2800601d15