Kwikstage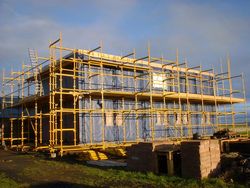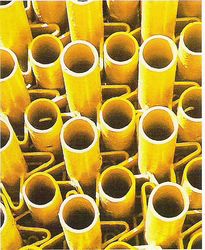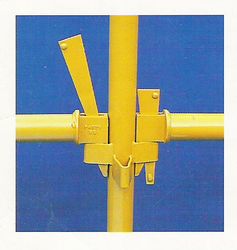 We supply the two most commonly used system scaffold in the UK, Kwikstage ( designed by GKN Kwikform ) and Scaflok ( which is a copy system of " Cuplok / Cuplock ", designed by S.G.B.). Whilst each system is different, they are both based around a bay size of 8ft / 2.5m and 6ft / 1.8m with a width of 4ft / 1.3m.
Each system can be used in just about any application and is the safest option if you intend to erect the scaffolding yourself.
Scaflok is around 50% more expensive than Kwikstage, this is mainly due to Scaflok / Cuplok being galvanised and it holding its appearance/finish, whilst Kwikstage is painted when new, and becomes rusty when secondhand.
Kwikstage is by far the most common system used today, it is based around the same bay size as Scaflok / Cuplock but usually comes painted yellow. Kwikstage uses a "wedge" and "V-pressing" to locate and lock all components together.
Click here to download an erection guide, this will help you identify the components.

This is the main item of equipment we supply, especially to self builders, as it is easy to erect, a husband and wife team can easily manage to erect this system around a house in a day.
We supply a fully colour coded plan of " what goes where " and from the feedback we get this is the best option for self builders.
Our best selling option is the 32ft run x 16ft platform height, other size kits are available, for prices Click Here