Self Build Info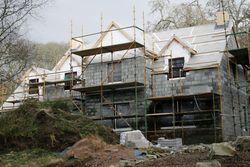 Now that you have decided to go ahead and start you very own self build project we are here to help guide you through the process of which scaffolding to buy.
We can help you choose which type of scaffolding will best suit your build, if it is better to purchase or to hire, should you go for new or used, these and many more questions you may have are answered in these sections.
Scaffolding is available in two types, Conventional ( Tube, Boards and Fittings ) and System Scaffold ( Kwikstage and Cuplok )
We recommend that conventional scaffolding only be used by someone who is competent, this would be a scaffolder or someone who has worked with scaffold most of their working life. Conventional scaffolding is slightly cheaper than system scaffold, however, once you have paid someone to erect it the costs start to equal out.
System scaffold is far easier to erect for the self builder, most systems are " locked " together using just a hammer. The two systems we stock are Kwikstage and Scaflok ( a copy of SGB Cuplok ), both are easy to erect, simple to use, with many accessories available. Kwikstage is painted yellow, this is the cheaper of the two, Scaflok is galvanised, this is more expensive, however it will keep its " as new " finish for many years. Most self builders opt for kwikstage as this is the cheapest option.
Please see our Brochure for more information.
Follow the links to find out what you need to know, Health & Safety issues, site insurance, VAT charges and much more...