Queen Mother's Funeral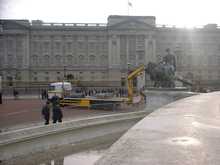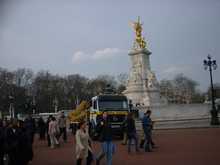 Queen Mother's Funeral - We received a call on the Saturday teatime, help was needed to supply and deliver equipment to Buckingham Palace, The Mall, and Windsor Castle.
Sunday morning, once the lorry was loaded, we were off, collecting equipment on the way, we arrived at Buckingham Palace at 5.00pm, we were to take three days delivering and moving equipment on and around the funeral route.

The Equipment was erected to form gantries for TV cameras along with TV studio bases, these then had portable studios added and from the TV veiwers point no one ever knew that there were over 200 tons of scaffolding used!